With the beautiful weather comes the magic of outdoor adventures. Spending quality time with your children is something that will bring you closer together, as well as let your kids be creative and explore their surroundings.
Sometimes thinking of fun activity can be a challenge, but there are so many exciting things lurking around, even in your backyard.
You do not need to spend a lot of money to make your kids happy, all your need is some imagination and you can create a wonderful and exciting playtime session anywhere you go.

Here are some ideas to spark your imagination and creativity to create a wonderful activity that will keep your child occupied and happy.
Bird watching
Children are really fascinated with animals, and a lot of kids really like birds. The only thing you need to invest in a good pair of binoculars for kids, and let the fun begin! The best part is that bird watching does not need to be the only activity you do with your child.
For example, you can take your binoculars with you on your walk to the park and watch the birds while you are walking, or you can go camping with your child and watch the birds from your camp.

Bird watching, although it seems dull, can be really exciting for kids. If they are really interested in them, buy them a good field bird guide for your local area, and challenge them to find all the birds in the book. It is an engaging activity that your kid will enjoy. And who knows, it may even become a hobby or spark a career path for the future.
If your child is not enjoying the bird watching, or they are not able to hold still, there are other bird-related activities you can try. For example, you can set up a bird feeder in your backyard and teach them more about caring for other animals, or if your child likes to build things, try building a birdhouse together. A building or repairing things together is a really good activity for bonding.

Another activity that can fit on a more educational side is creating a herbarium. If you want to make it a challenge, you can tell your child to find the name of every plant they collect. But remember, this is an activity that you can do together, and it may sound boring, once you are doing it it can be really exciting.
Create an Interesting are Project
In the spring while the flowers are blooming, there is not a better thing to do than to get the paper and paint out and paint nature with your child. All kids love to draw and paint, and if you are trying to get them out of the house, what is better than engaging in a creative project?

If you have an old camera you can also go on a photograph adventure with your child. One really exciting thing is to get an old analog camera and a couple of films. Your child will love it!
Plant a Garden
If the bird watching and herbarium making activities did not make your child happy, but they still love nature and learning about animals and plants, maybe the best thing to do is to plant the garden together. If you have a big back yard but you are not sure what to do with it, there is a giant opportunity.
But it is not only preparing the soil and putting the seeds. It is also taking care of the plants as they are growing, like watering them daily. If you have a bit more time to spare, another good idea is to plant veggies instead of flowers (or both).
That way you will teach your child the importance of eating fresh veggies as well as the responsibility of taking care of something alive. But it is also a fun project that will keep your kids occupied throughout spring and summer.
Scavenger Hunt
Now we are here for some adventures. Children love a good challenge, and a really wonderful thing about a scavenger hunt is that it can take place pretty much anywhere; in your backyard, in the park, or even on your holiday location.
Gather a couple of things and hide them all in different places. If you want to spend some more time planning the game, you can even create a cool story behind the hunt. Make up some clues about the location of the hidden object and may the hunt begin. This game will keep your kids busy for hours.
Sports Time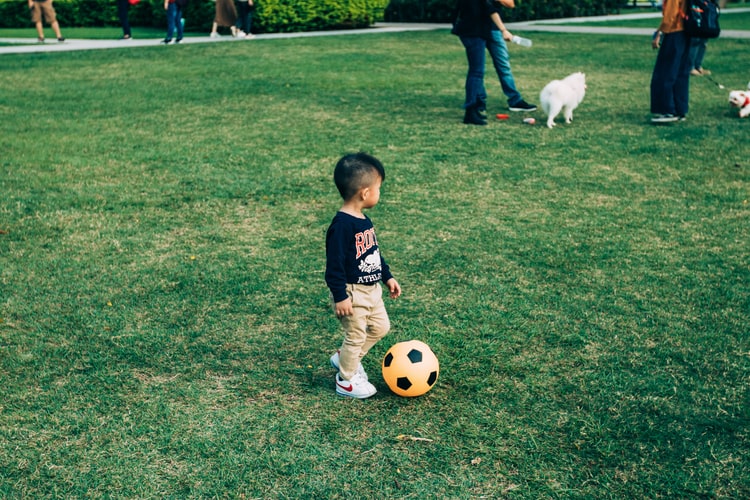 Although this is probably the most obvious outdoor activity you can do with your child, it is the one activity that guarantees success. Apart from the bonding time, it is also a good way to tire your kids throughout the day and allow them to have the good quality sleep they deserve.

Sport is especially a good activity for your child if they love to sit in front of the screen for hours or they should lose a couple of pounds. Make it fun and engaging, and your child will love it.

Although football is a really convenient sport to play with your child, there are countless other possibilities to choose from, just to keep the play time a bit more engaging.
For example, if you are really ready to invest in a basketball hoop, you can either pay a regular visit to your local playground or build a hoop in your backyard together. Tennis or badminton are also a great way to let your child run out of all of their energy.

Another wonderful idea is to go on a bike adventure. If you have a bike trail that is near to your home, it is even better, but if you are not so lucky, create a bike route yourself.

Sargazing
If you are looking for some night time activities, there is nothing better than watching the stars. You don't even need to have a telescope for this, but if your child takes particular interest in the activity, maybe think about investing in one.
There are many apps on your phone today that can show you the positions of constellations, and star information, but if you like to be a bit more old school there are also may books on astronomy that are kids-friendly.