What is a Tactical Flashlight?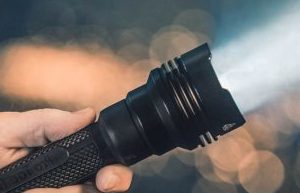 A
tactical flashlight
is designed to be a reliable companion in times of crisis. It will provide a strong light when most needed – such as during an emergency power-cut, if you are lost in the countryside or when a disaster hits your neighborhood.
Reliability, durability and bright light make a tactical flashlight a must have item.
Tactical flashlights are the big brothers in the EDC – that's everyday carry – the family of flashlights.
They give out a brighter light and tend to be more durable and easier on battery power than ordinary EDC flashlights.
They are designed to withstand quite a lot of punishment and if you spend much time in the great outdoors, be sure to take one with you.
If you think you have to be a law officer or a member of the military to need a tactical flashlight, think again.
There are lots of situations where a powerful flashlight will come in handy.
Think back to your last camping trip and I'll bet you wish you'd had a bright flashlight with you. Maybe your car got a flat tire on a dark country road not long ago – again a bright flashlight would have helped you then!
Features to Look for in a Tactical Flashlight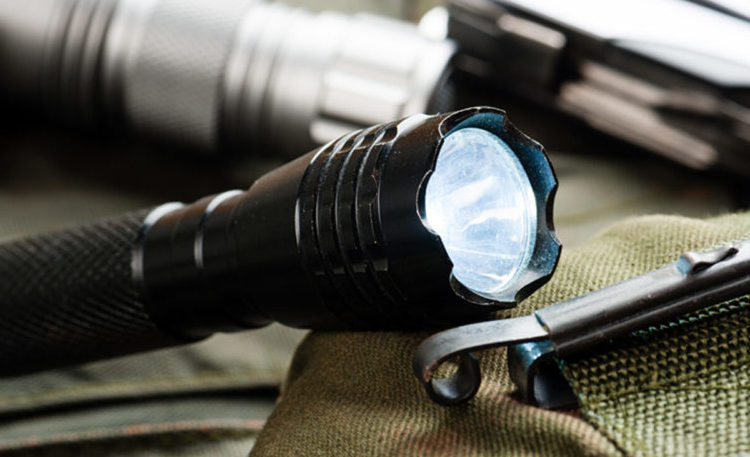 · Compact Size and Lightweight
It is much more convenient if your tactical flashlight is small enough and light enough to carry with you in your pocket. No-one should be burdened with a big flashlight that just gets in the way.
· LED Light
The cleanest, sharpest and brightest light comes from an LED bulb. Make sure that your tactical flashlight is fitted with one. LED bulbs also use less power than traditional bulbs and so your battery will last longer.
· Multiple Light Modes
Tactical flashlights usually offer several lighting modes. These can include low and high beams and strobe. Strobe is useful as it can draw attention if you have had an accident. It will also confuse and disorientate anyone who tries to attack you.
· Defensive Capability
Referring again to an attacker, most tactical flashlights can inflict harm on an attacker. In order to be durable flashlights need to be strongly made, and when wielded in self-defence should therefore hurt!
· Durability
The durability that makes tactical flashlights useful for elf-defence also means they are great in any emergencies. Most are made from stainless steel or aluminum of aircraft-grade. Look for the term 'impact resistant' and you can be confident that accidental dropping won't harm your flashlight.
· Waterproof
Most tactical flashlights are waterproof or water-resistant. This means that an accidental submersion in water won't stop it working.
· Easy to Use
The control button on your tactical flashlight should be easy to access and easy to use. Switching between modes must be simple and achievable without you having to look down to see what you are doing. Make sure you can use the on/off button with one hand.
· Good Battery Life
Ideally your tactical flashlight will be supplied with a rechargeable battery. Tactical flashlights have a great reputation for long battery life anyway, and it is comforting to know that your flashlight won't let you down at a critical moment. Some are fitted with USB ports to make recharging even easier.
5 Brightest Tactical Flashlights in the World
1. Fenix PD35

USB Rechargeable

Led Flashlight



The publicity material for this flashlight features camouflage material, suggesting that it would be a great military flashlight.
Indeed it would, and it would be just as good on a hunting trip, camping trip or hiking through wild country.
With 1000 lumens of bright, clean light that reaches over 650 yards, it is much brighter than many EDC flashlights.
The Fenix PD35 is barely six inches long and is manufactured from both stainless steel and aluminum.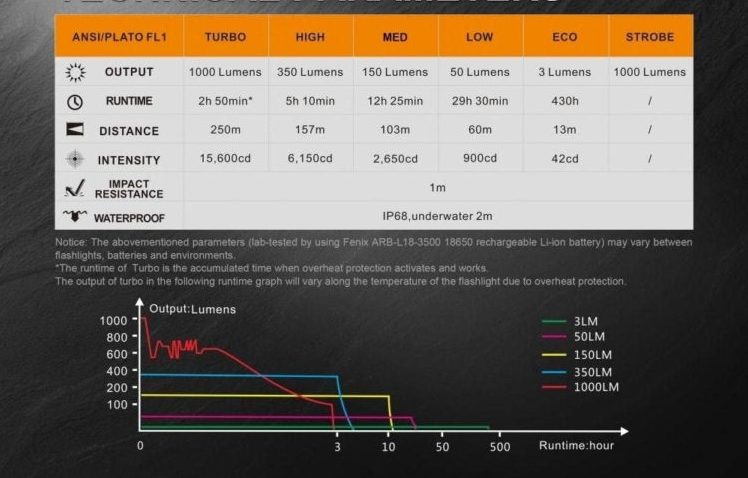 The lens is made from extra tough glass and the whole unit is waterproof with a rating of IPX8 – that's the top rating.
2.

Anker LC130

Ultra-Bright Tactical Flashlight



The Anker LC130 pumps out 1300 lumens of light letting you see clearly for 850 yards.
There are five different lighting mode settings with SOS and strobe among them. You can charge the Anker via a USB port.
There is a non-slip coating on the body of the flashlight and this gives a good grip.
Much less chance, therefore, of it sliding out of your hand by accident.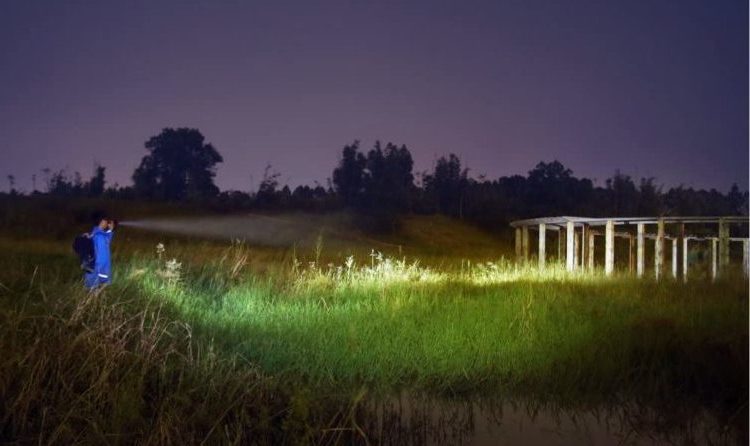 It is slightly heavier than most tactical flashlights but is both reliable and particularly tough.
3.

Wsiiroon CREE MXL-T6

LED Flashlight
The MXL-T6 has five lighting modes including both SOS and strobe. With 1800 lumens of brightness, it will light your way ahead with ease and efficiency.
The light can be focused for best results at whichever distance you need.
Specially coated for slip resistance, the MXL-T6 is unlikely to fall from your hand.
If it does it has a high impact resistance rating so won't come to harm. It is also waterproof.
What's more, this tactical flashlight comes as part of a special deal where you get another one too. So a flashlight and a spare! Keep one powered-up and you'll never be in the dark!
4. Fenix TK75

LED Rechargeable Flashlight
This tactical flashlight comes as an entire kit with batteries and battery charger.
The lens is larger than normal tactical flashlights and issues a 5,200 lumens brightness.
This puts the TK75 almost into the searchlight category!
The high level of brightness makes this a popular choice for hunters who will use it at night to dazzle their prey.
For those who just want to go camping or hiking, this choice may be a bit on the large side.
Keep it in your van or tent, though, for emergency use and for lighting up the darkest nights.
The TK75 is really tough and reliable.
It won't let you down when you are depending on it, and having spare batteries readily to hand means you can always do a quick change.
5. GearLight S2000

Brightest High Lumen

Led Flashlight
The GearLight S2000 uses 4 standard AA batteries which give about 2 hours of bright light.
With the light level at 1200 lumens, this flashlight will serve most purposes when outdoors.
It boasts an adjustable zoom enabling you to narrow the beam so it will reach further.
This flashlight is a bit too big to carry in a pocket, but will slot into a backpack easily.
Like other tactical flashlights, it is tough, durable and reliable.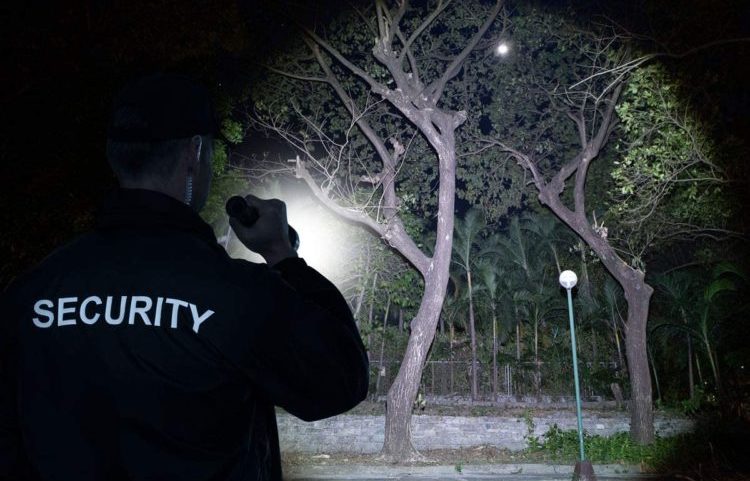 Just make sure you have spare batteries with you at all times. Otherwise it is a versatile unit at an affordable price.