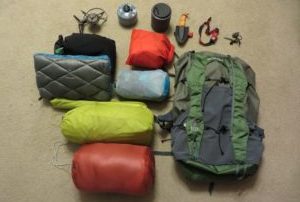 When deciding
how to pack your backpack
, your first consideration is how long you will be out on the trail. Then you need to decide how much weight are you willing to carry.
You can pack the traditional way, but that will result in a reasonably heavy load.
If you want a lighter load, then you need to consider lighter gear and less clothing.
Want to see how to pack your backpack? Then watch Eric pack a traditional backpack and also a lightweight pack for an overnight trip.
If you are only interested in how he packs a lightweight pack then skip straight to minute 9.
From the video, you can see that Eric now prefers the comfort of a lighter bag and as he says in the video, it has not affected his comfort level in camp.
How to Pack your Backpack – Basic Tips
The first step is to line your backpack with a garbage bag orwaterproof bag to protect your belongings from getting wet. I do this even though my bag also has outer rain protection.
As far as possible, pack heavy and dense gear in the middle and close to your back and also at the bottom of the bag.
Load sleeping gear, clothing, food and so on in the main body of the backpack and the stuff that you will need fast access to in the top pouches. I carry toilet paper, a lighter or matches, a headlamp, a water filter, a first aid kit and a water bottle where I can easily access them.
Pack your valuables in waterproof pouches.
When your bag is packed, pull the compression straps tight. You want the pack secure and as close to your back as possible.
How to Pack a Lightweight Backpack
The first step to lightweight packing is to buy gear that is light. Check out our 5 top packing guides. I especially like the Ultralight Backpacking Tips by Mike Clelland.
The second step is to take less. We don't need all the stuff we think we do. This is often the hardest behavior to change, but try it, it will make a big difference to your load.
Interesting, What do you think?
I always put my sleeping bag in a stuff sack and at the bottom of my backpack. In the video, Eric stuffs his sleeping bag into the bottom of his backpack, but he does not put it into a stuff sack.
How do you pack your sleeping bag? If you enjoyed this article on How to pack your backpack, please share it with your friends…