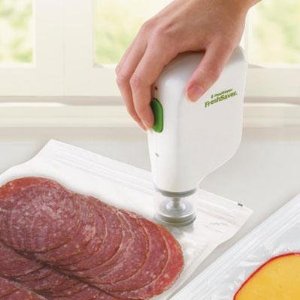 Vacuum sealers work by removing air (oxygen) from around the food and thus preventing oxidation, which spoils the food, to take place. When air is vacuumed out of the bag, the bag wraps around the food and it's sealed to avoid moisture and air from entering.
Generally, there are two types of vacuum sealers: handheld and countertop. If you plan to seal items once, then handheld sealers are good enough as the seals made by them are prone to weakening over time. And one of the best out of a very few handheld vacuum sealers is the FoodSaver FSFRSH0051 FreshSaver.
Pros: Compact and sleek, stiffer special bags and convenient use after getting familiarized
Cons: Weak cordless power and shorter-spanned bags
Compact and Sleek
Measuring at 3.9 x 3.1 x 8.9 inches and weighing at a mere 1 pound, FreshSaver is compact enough to be stored in your kitchen cabinet. Or if you're a showy person trying to tell your girlfriends that you're kitchen-savvy, put the sleek, minimalist vacuum sealer on an eye-catching position. And on top of a recharger base, that's a surefire way to draw a few curious stares. Also present is a dishwasher safe nozzle that channels overflowing liquids to maintain a tight seal.
Weak Cordless Power
By the push of a button, FreshSaver sucks out the air to create an airtight seal that preserves the food for a period of time. However, as with any battery-powered devices, this vacuum sealer has a weaker suction capability compared to countertop models. Besides, in order for it to vacuum effectively, FreshSaver must be used with specially-designed bags and containers.
Stiffer, Shorter-Spanned Special Bags
Used with FoodSaver® Vacuum Zipper Bags and FoodSaver® Deli Containers, these stiffer bags would permit more air to enter than a regular plastic bag if the seal fails. And although these bags are unable to keep the seal secured longer than a day or two, seal failure happens only when the same bag is used and sealed for many times. So if you're a working mum and wants to cook dinner in the morning, the bags would most probably work just fine.
Convenient Use After Getting Familiarized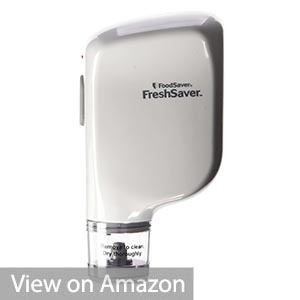 As mentioned, FreshSaver starts sucking the air with the press of a button.
Take note, nonetheless, that you have to hold the sealer at the right angle over the zipper bag valve for the sealer to function correctly, a procedure which you would get used to in time.
To make sure that FreshSaver does what it's supposed and could do, put the food on a solid surface so that a good seal could be formed.
Alternately, slide a small, flat item about an inch towards the corner of the bag to get a good extraction.
Conclusion
A little time is required to get your hands comfortable in usingFoodSaver FSFRSH0051 FreshSaverthe right way. Once you're familiar, nevertheless, it does a decent job in vacuuming and sealing food, preferably dry ones.
Just make sure that you don't overuse the specially-designed bags to achieve the best results. With 1-year limited warranty and a price that can't go any lower, give a pleasant surprise to your visitors and save them the guilt when they can't finish the food.