What is a Battery Charger?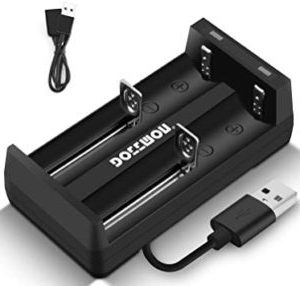 Rechargeable batteries need to recharge by using a special device called a 'battery charger'.
Battery chargers work by forcing an electric current through an undercharged battery which is designed to capture the current until it has fully charged.
Battery chargers most commonly hold either four batteries, two batteries or one battery at a time. The device has to be plugged into a power source, usually a domestic power outlet.
What are 18650 Batteries?
18650 batteries are rechargeable batteries that are compact in size – 18mm diameter and 65mm long – and are cylindrical which is why '0' appears at the end of the number. 18650 batteries are the most common lithium-ion rechargeable batteries on the market and can be used in a large number of different devices – especially 18650 flashlights.
What is a 18650 Battery Charger?
A 18650 battery charger is a charging device that will charge 18650 lithium-ion batteries along with other types.
What to Look Out for When Choosing a 18650 Battery Charger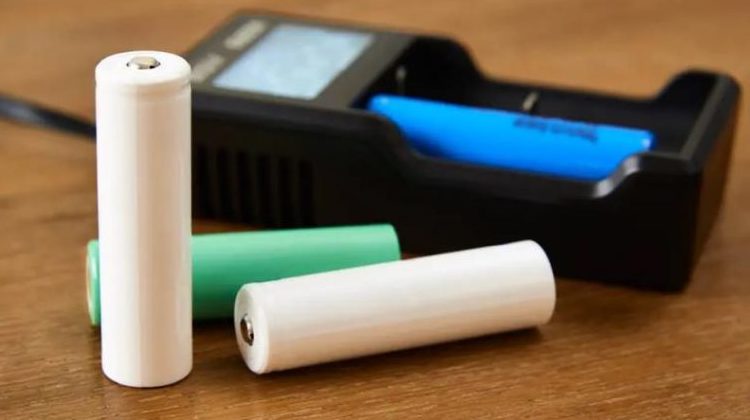 · Battery capacity
How many batteries can the charger hold at one time? There are chargers that hold just one, others that hold two and larger ones that can hold four batteries.
· Control
How much control does the charger allow you, the user, over the charging process?
With some chargers, you just slot the batteries in, plug the device in and wait for the indicators to go green to say charging is complete.
Others allow you to switch the charging process on or off. Some will stop charging automatically once the task is complete.
· Speed
Some chargers will charge quickly, while others are slower. Some give you control over the speed of charging. Yet others have a trickle charging capability that kicks in once the full charging is complete.
· Versatility
Some chargers allow you to charge either lithium-ion or NiMh batteries. Others also allow NiCd and rechargeable AA and AAA batteries to be charged.
· Power input
Increasingly 18650 battery chargers are appearing with USB power input. Some only have this form of input. Other chargers have both USB and normal power outlet charging.
USB charging does allow you to charge from a variety of sources, like a car.
· Other functions
Some battery chargers also allow battery testing and over-charging prevention. You may want to have a discharge function and a refresh function in your charger and there are some that offer both of these.
· Bluetooth
A very few battery chargers are now being produced with a monitoring feature that allows you to keep track of the charging process via Bluetooth. This is a recent development and may well prove beneficial for some users.
· LCD touchscreen
We may be straying into gimmick territory with Bluetooth and LCD touchscreens but a few manufacturers think not. LCD touchscreens alongside the charging bays on a charger probably will appeal to geeks. They certainly push up the price!
9 Best 18650 Battery Charger
Single Slot Chargers
The Klarus will charge an impressive variety of batteries apart from just the 18650.
It will happily accommodate longer batteries.
This charger only has USB input and does not discharge or refresh, and only takes one battery at a time.
With automatic activation function – can reactivate over discharge short circuit protection lithium ion battery.
The unit remains cool while charging and is very reasonably priced.
The Opus boasts a range of functions – it will charge, discharge, refresh and also has a test function.
Both capacity and impedance can be tested. Thus this charger gives you more control over the whole process.
There is also a display function to help you control the unit.
This charger can be compatible with the following batteries: 10440,14500,16340,17335,17500,17670,18490,18650,22650,26650,32650,AA,AAA,C,D.
This charger has a display that is easy to read, but only charges – there are no other functions.
It is a robust little device that has USB only power input.
It can be used in your car, for example, so it good when you are on the move.
The current settings on this device are determined by the size of the battery.
Longer batteries automatically are charged at a higher current.
Two Slots 18650 Chargers
This charger accommodates 2 batteries including longer types.
It has a discharge function, refresh function, and can check capacity.
There is a small fan that comes on when the device is discharging.
There is also a display to keep you informed of progress.
Suitable for all kinds of universal chargers: Ni MH Ni-Cd double a triple AA AAAA C SC battery, Li-ion battery.
Automatic detection of battery status, selection of charging mode, full power or power-off timeout, LCD display of each battery voltage and type, charging current and time.
The SV2 Rocket is an uncomplicated, fast 18650 charger.
It can handle both long batteries and wide batteries.
It does not, however, have either a discharge or refresh function. Versatile and speedy.
Four levels of charging current are used to charge Li-ion, Ni MH and Ni-Cd batteries. Two channels can charge different types of batteries at the same time.
The state and charging process of the battery is displayed by digital liquid crystal. The Li-ion battery is charged by CV/cc, and the Ni MH / Ni-Cd battery is charged by pulse current.
Four Slots 18650 Chargers
Probably the simplest of the four slot chargers suitable for 18650 batteries.
There is no display and while it can recharge long batteries it can only do so for lithium-ion ones.
USB power in, which is not unusual.
It can charge four different types (sizes) of batteries at the same time, suitable for 3.6v/3.7v Li ion / IMR / INR / ICR batteries.
The great advantage of this charger is its simplicity and ruggedness.
It will charge your batteries quickly and with no fuss.
This is an excellent charger for 18650 batteries.
It has a large display screen where you can read all the diagnostics relating to your batteries.
It charges, discharges and refreshes with no qualms.
There is a fan to keep the unit cool while it operates.
There are a number of functions available on this charger, so you will need to take time to get used to them all.
This is a premium battery charger. It has 2 USB power inputs plus a DC connector.
It has a selection of functions including charging, discharging, testing and refreshing.
The LCD display is large and easy to read.
The device comes with power supply leads and plugs, a USB car charger and resistance and voltage probes.
The voltage probes have a USB connector.
The charger can also serve as a power bank.
The C4-12 is one of the speediest 18650 battery chargers available.
It can cope with the longest batteries and has selected current automatically.
It also will serve as a power bank, which is one of its selling points. The LCD display is large and easy to read.
It will accommodate a range of battery shapes and sizes due to the slider construction in each slot.
This is a good all-around battery charger that allows control over charging but also will act automatically.
You may also like: How to Choose a Rechargeable Flashlight