What is a 18650 Flashlight?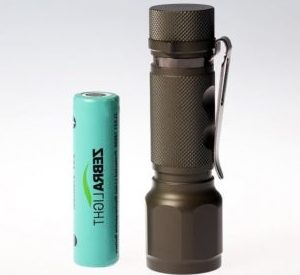 A 18650 flashlight uses a particular type of rechargeable battery. That type is a lithium-ion battery which is currently one of the most popular rechargeable batteries available.
Many rechargeable flashlights use 18650 batteries, but they can also be used in a range of other electronic devices.
The name 18650 refers to the size of each battery.
Their diameter is 18mm, their length is 65mm and the cylindrical shape is indicated by the '0' added as the last digit. The 18650 battery is therefore ideal for compact flashlights.
The nearest similar rival rechargeable battery is the CR123A. They are interchangeable in some cases, but certainly not always.
The CR123A battery tends to be used in specialist devices such as SDLR cameras, and to be more expensive than the 18650.
What are the Advantages of a 18650 Flashlight?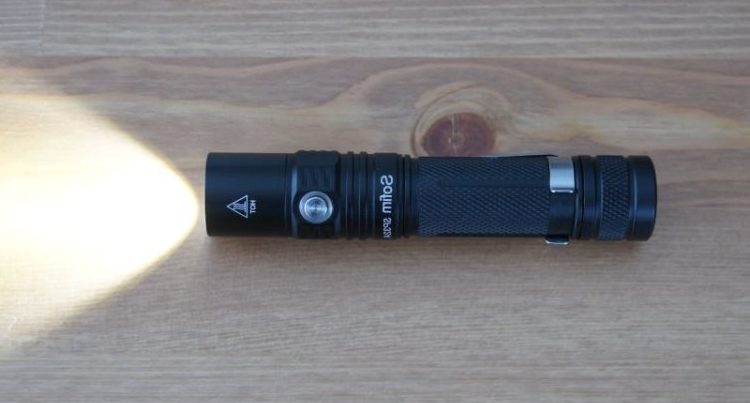 · Readily Available Batteries
The 18650 battery is stocked in most stores that sell batteries. You won't need to spend too much time searching for them.
· High Drainage Capacity
18650 batteries are able to draw power rapidly which is great when you need bright light. Tactical flashlights and EDC flashlights benefit from this when a bright light is needed to dazzle an assailant.
· Modest Discharging Rate
18650 batteries lose very little energy when not in use. This means that even after a long period of not being used, they will still provide power for a bright light when needed.
· Cost
Rechargeable batteries tend to be more expensive when first purchased. However, they can be recharged over and over without any adverse effect.
18650 batteries are good for 1,000 recharges before their capability declines. This makes them cheaper in the long run.
Features to Consider When Choosing a 18650 Flashlight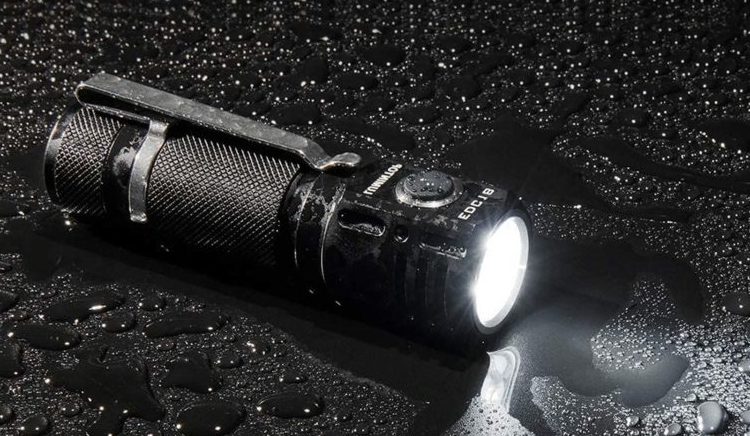 · Size
Basically, rechargeable flashlights come in two types – compact or searchlight. Searchlight types have a larger lens, can be used hands-free as they often have a tripod or stand incorporated, and can act as a searchlight in an emergency. Compact types are smaller, easy to hold in your hand and will fit easily into a backpack or pocket.
· Brightness of the light
The brightness of the light is measured in lumens and the higher the number of lumens then the brighter will be the light. 18650 flashlights are powerful and provide strong, bright, clean light. Most of them will emit 1000 lumens or more.
· How long is the beam?
A bright light is great but it has to stretch into the distance so that you can see where you are going. This is especially important if you are frequently out and about after dark.
· Focusing the beam
Most 18650 flashlights allow the light beam to be focused so that it can be wide or laser point or settings in between. Some flashlights offer strobe and SOS modes as well.
· Protected batteries
In order to prevent 18650 batteries from overcharging or discharging excessively, they are fitted with protective caps.
These 'button tops' are a tiny bit longer than those batteries that do not have them. Those that are unprotected are called flat tops.
If your flashlight uses unprotected batteries check that it has an inbuilt circuit that serves to stop the batteries from overcharging or discharging until they are damaged.
· Controls
Often the on/off switch is fitted on the end of the flashlight. The modes will often be controlled by a separate switch, while some expect you to do so through the on/off switch. This can be awkward and lead to fumbling and delay in getting the mode you want.
· Mode Memory
The most recent 18650 flashlights will be fitted with a mode memory that switches on in the mode last used. This is great if you tend to use the same mode most of the time.
4 Best 18650 Flashlights
The TR-3T6 is a versatile 18650 flashlight that will emit 3,800 lumens from two batteries.
The body of the flashlight is made from aluminum alloy and is designed to be both comfortable to hold and safe in your hand.
This flashlight boasts five mode settings which include SOS and strobe.
The body can be extended by adding either two or three extra tubes. By doing this you will make it longer, but it will then need an extra battery.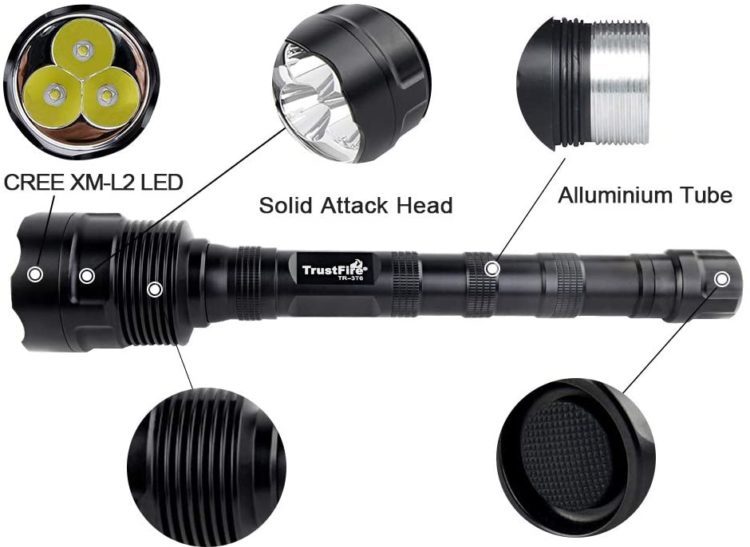 If you want to attach your 18650 flashlights to your hunting equipment, then there is a pressure switch that can replace the tail switch.
This pressure switch can be triggered remotely giving you real control over the light you need.
The TC15 has a grand total of six light mode settings.
As well as the expected high, medium and low settings, there is a strobe setting, a turbo setting and a firefly setting.
Firefly setting gives just 1 lumen allowing you to read with no difficulty. The high setting gives 1,050 lumens while turbo blasts out 2,300 lumens.
On top of all that, turbo mode pushes the light out to 807 ft. That's a remarkable distance and means you will be able to see exactly what's up ahead.
There is only a single switch to master which does on/off and all the mode settings.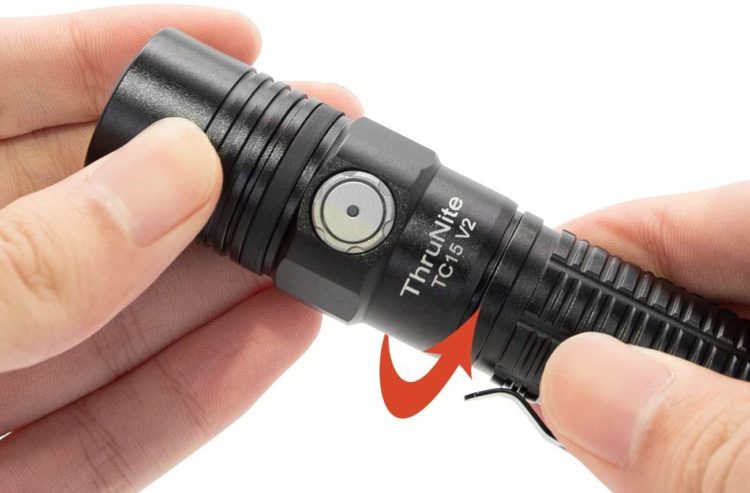 Recharging is via the USB cable provided, and you will get a warning flashing red light when power is getting low.
The design of the body of the flashlight guarantees a secure non-slip grip.
At the lower end of the price-range for 18650 flashlights you will find the Ultrafire WF502B.
It offers just one mode and the battery will cost you extra.
It does offer solid construction and an on/off switch on the end.
This 18650 flashlight gives a really bright light for a budget-priced item.
It gives out 1,000 lumens and will reach 650 ft.
It is also waterproof which means you can take it out in all weathers without worrying.
In its top performing mode, this flashlight gives 2,800 lumens of bright sharp light.
There are turbo, beacon, and strobe modes alongside stepped ramp, lockout and momentary modes.
Plenty of choice in a compact body which comes in three color choices.
The Lumintop is easy to use, lightweight and compact.
The waterproof rating of IPX8 makes it a great choice if you are out and about in poor weather conditions.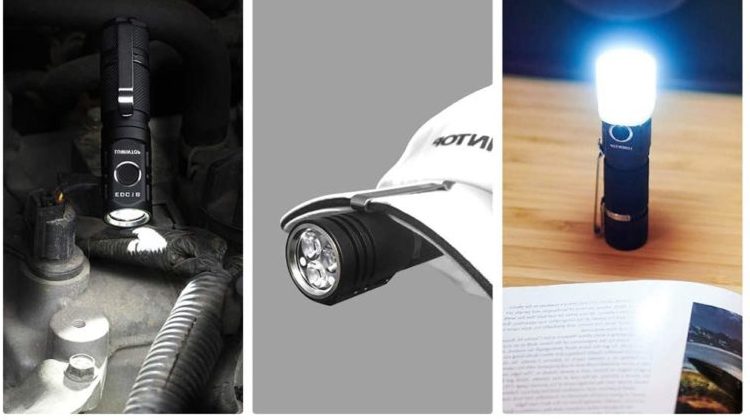 It is also a reasonably priced 18650 flashlight.