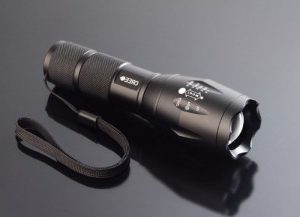 What is a mini flashlight?
Just as the name suggests mini flashlights are small flashlights that are usually light in weight and ultra compact.
They are meant to be carried in a bag or purse, pocket or in some cases clipped to a belt.
Mini flashlights are very handy to have with you when you are fishing, camping, hunting or out hiking.
They are great when the power goes down or if you are walking at night along an unlit road.
Types of mini Flashlights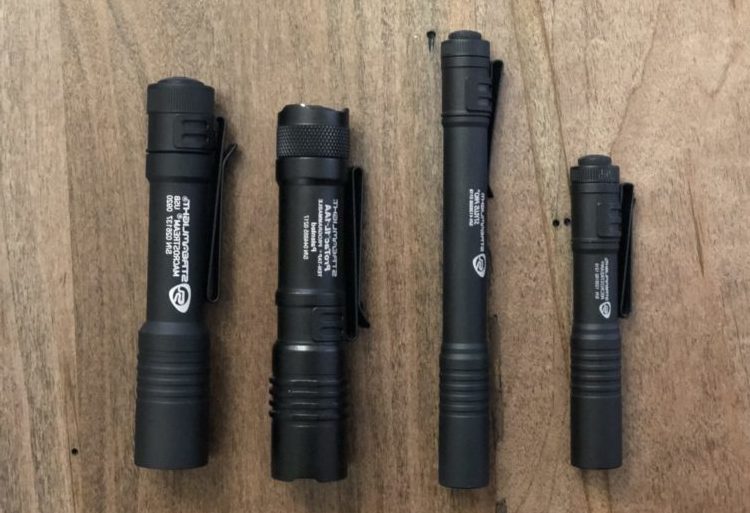 1. Tactical and EDC flashlights
Just like their larger cousins, mini tactical and EDC (everyday carry) flashlights are tough, reliable and provide really brilliant light.
Like the larger versions, they are usually made from aluminum or stainless steel. Some small versions are the same design as the larger ones, while others are specially designed to be small but distinctive.
2. Keyring flashlights
Having a mini flashlight on your keyring can be very useful indeed. They come fitted with a ring that slots onto your keyring preventing you from losing it.
Keyring flashlights come into their own when it's dark and you need to light up the keyhole in your front door.
They can be very handy when you are looking for something at the bottom of a bag or purse.
3. Penlights
Penlights are long and thin and look similar to a normal ballpoint pen. These lights are often used by people like plumbers or electricians who need to direct a beam of light into a constricted space.
Mostly penlights come with clips on the side so that they can be fitted to a shirt pocket or tool case.
What Factors Must I Consider When Choosing a Mini Flashlight?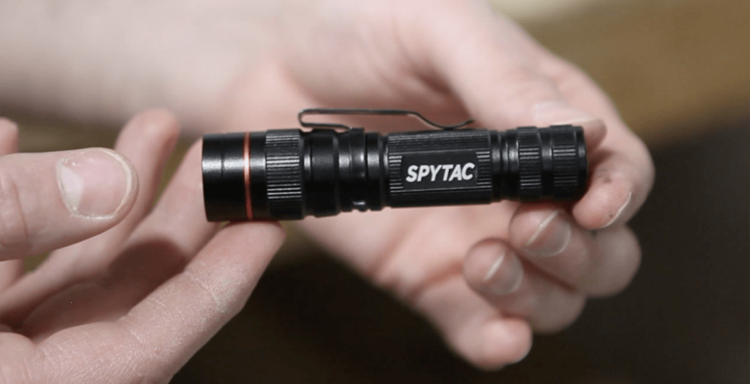 · Energy Source
Most varieties of mini flashlights work on AA or AAA batteries. Some use rechargeable batteries which can offer savings over the traditional types of battery.
· Proof Against the Weather or Accidents
Every flashlight should have a substantial degree of resistance to water and dust. They should also be able to withstand being dropped accidentally or in some way knocked or hit.
· Brightness of the Light
Even mini flashlights can produce very bright lights. The brightness of the light is expressed in lumens, so the higher the lumen output the brighter will be the light. Look for a flashlight with a high number of lumens.
Modern flashlights are capable of producing a much brighter light than was previously possible. In part this is due to better batteries but also the introduction of LED bulbs has contributed to brighter light.
· Convenient to Carry
If you carry a flashlight then it must be easy to grab when you need it. You do not want to be searching your pockets or bag in an emergency. Those flashlights with clips can be attached to a shirt pocket, belt or strap on a backpack. Those with a ring fitted can be attached to a keyring or belt loop.
· Battery Usage
Generally mini flashlights are economical in the battery power they use. Their size means that they often use smaller batteries – some even use button batteries – but the technology used in manufacturing them means they don't use power too quickly.
Best Mini Flashlight 2021
The Solitaire from Maglite is truly mini in size, but it has been in production for a long time and has become a firm favorite.
It is powered by one AAA battery and produces 47 lumens lasting about 105 minutes.
It comes with a lanyard which is good as the small size of this flashlight means it could be easily lost.
To turn the beam of light on, it is necessary to twist its head.
There is no on/off switch. It has a high waterproof rating of IPX7 and is resistant to being dropped.
This is a small flashlight with a great pedigree and is worth considering seriously as a purchase.
Streamlight is another well-respected producer of flashlights.
The 1l-1AA needs an AA battery, but this can be either a traditional one or a rechargeable one.
It has three light mode settings – strobe, high and low.
Depending on the battery being used, this flashlight can reach 350 lumens of brightness.
An IPX7 rating for waterproofing and a tough aluminum body means it is a great companion for use in the great outdoors.
There is a clip for carrying the flashlight. This is a quality product that performs well and reliably.
If you need a penlight when at work, then this 100 lumen offering is the one for you.
Made from top-quality aluminum it is light, reliable, strong and extremely durable. It has a high rating for dustproof and waterproof characteristics.
Power comes from two AAA batteries and there is a clip to secure the flashlight to a pocket or belt.
There is also a specially rubberized cap at the tail end of the body and this enables a user to hold the flashlight in their teeth. This means easy hands-free usage.
The Milwaukee is just over 5 inches long and is a bit chunkier than some other penlights.
If you are keen to buy a mini flashlight that uses rechargeable batteries, then the Oudmon is a good candidate.
A single lithium-ion battery produces 20 hours of 1200 lumen brightness. Recharging is via a USB and can be completed in about four hours.
The Oudmon has the added advantage of warning you when battery power is getting low, and will also let you see how charging is going.
The magnetic base allows it to be used as a lantern.
While at the larger end of the term 'mini' this rechargeable flashlight has some great features. Tough, reliable and reasonable value for money. (How to Choose the Rechargeable Flashlights)
This tactical flashlight gives an adjustable beam of light that can reach 1000 feet into the darkness.
Not only can you focus the beam narrowly onto a spot ahead, but it will also cover a wide area too.
Three AAA batteries do the hard work, but this flashlight can also be fitted with one rechargeable lithium-ion battery.
There are five light mode settings including SOS and strobe.
The S1000 can also cope well with poor weather conditions and is chunky enough to withstand some rough treatment.